26 pcs BLL-17.3 untra-thin motorized rectractable screen and 20 pcs BLL45-21.5 LCD monitor lift are finished the loading on 2019-11-9 which are purched by our Italian customer.They will be equipped in Italian goverment for the conference system.
BLL-17.3 Introduction:
Ultra-thin Monitor Lift is designed as advance hiding equipment for audio video system.
15.6, 17.3, 18.5, 21.5 inch Full HD LCD Screen for selection to meet the requirement of different monitor size.
Controlled conveniently by touch swith or remote control, the screen could be rising up form the conference
tables automatically to present the workable screen by the lift driving.
On the other way, the screen also could be hidden under the tables automatically by the lift driving once we using.
With double super-quite synchrous motor, rasing up and down by tank chain and mechanical gear, the lift is much smooth and quiet when working.
It is widly use in conference system, video conference system, tv conference system, financial analyzing system,
advanced office system,lecture and training room with conference table& computer desk,etc.
BLL45-21.5 Introduction:
Computer LCD motorized lift is a new design of electrical lifting monitor mechanism with screen tilting function. It's a hidden equipment for audio video conference system.
LCD/LED monitor could arising up to the tabletop if user would to present information by wireless controller. And the LCD/LED monitor would be tilting 45~60 degree for prefect presentation automatically once arrived the desktop socket.
LCD/LED monitor would moving back from 60 degree position and coming down into the mechanism case if user finished meeting.
LCD motorized lift featured by stable performance, automatic operation & space saving. With its smart function, it provides an efficient manner and enjoyable experience in conference communication and information presentation for meeting.

Feature:
1, Made of aluminum alloy panel and steel case, adopt imported circuit board, synchronous motor,and gear & rack.
2, Aluminum oxidation with drawing polishing surface process to make panel smooth and bright, ensure elegant and high grade appearance
3, Adopt double powerful motor, one motor to control monitor lifting up and down from mechanism, another motor control monitor tilting 45~60 degree angle and back.
4, Smart circuit board offer monitor protection, monitor could be power on once arrived the desktop, monitor could be power off if reach the bottom automatically.
5, Adopting superior gear appliance with double rack to ensure stable and reliable lifting for screen
6, Provide screen angel adjustable button, 45~60 degree screen to offer prefect reading area for information presentation.
7, Working smoothly and quietly during operation. Low noise which less than 30db.
8, Complicated with AMX/Crestron or other central controller via RS232 port.

BLL-17.3 photo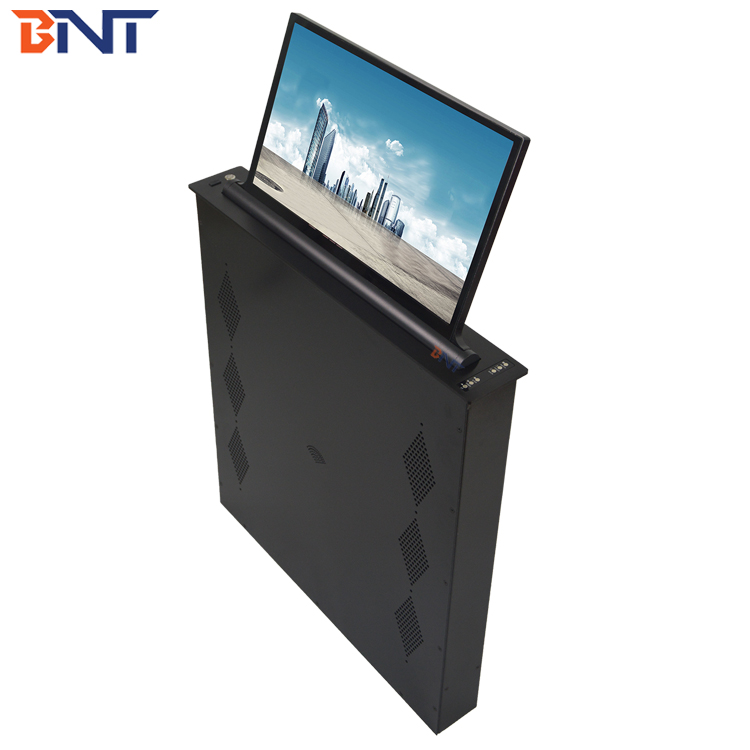 BLL45-21.5 photo