Aluminum Wall Track Socket embedded orbital EU movable modular power rail Plug system desktop Electrical Outlet Panel with USB
Key words: Aluminum Wall Track Socket,Track socket, movable socket, modular socket,wall socket,desk socket,office furniture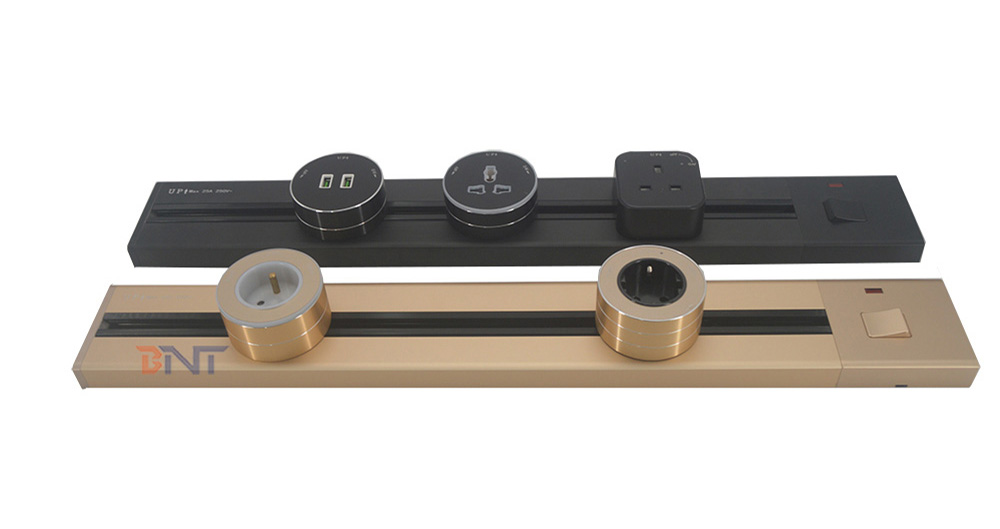 Introduction:
TPS100 Can be moved, there are different shapes to choose from. Can be used in various places.
Installed on the floor or the like for connection to a fixed wiring, and is usually used as a terminal and an outlet of a floor wiring system to take out power, signals, and data in the ground wiring system. Modules can be replaced according to different requirements. Available in aluminum alloy, zinc alloy , copper alloy and stainless steel material .It is mainly used in office spaces, airports, hotels, shopping malls, homes, etc., and is widely used.
Selling Point:
1. No need to cut the hole on desk, fixed under the table or sofa by the screws.
2. movable to different place you want by easy installation
3. Competitive price and high quality, ideal choice for office room
. Made by Aluminum alloy material, which is corrosion resistant, wear-resistant,smooth surface and not easy to scratch.
5. 1PCS customized is availble,the power socket,could customized made with US/UK/EU/South Africa and other standard power.
6. Changeable configuraton with different modules for selection